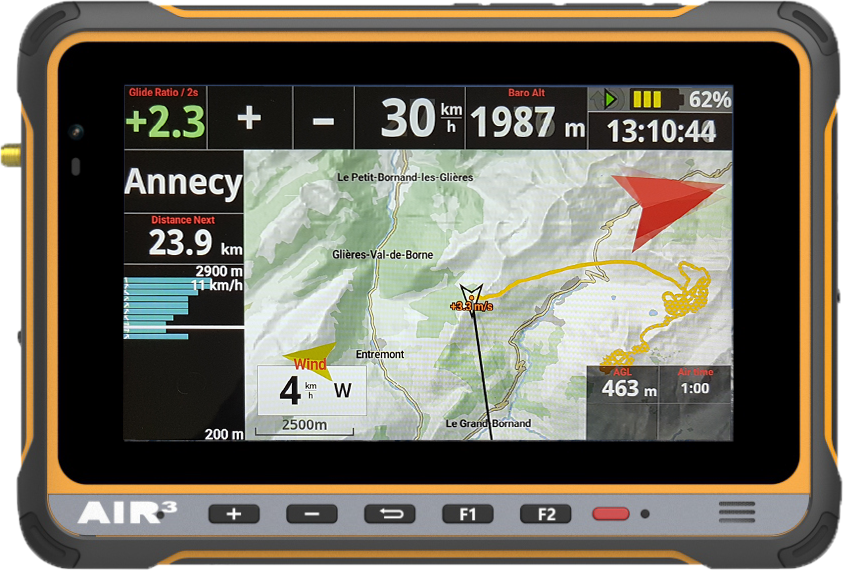 ---
Système
Processeurr ARM A73 – 2.0 GHz Octacore.
RAM 8 Gb.
Stockage 128 Go + MicroSD slot (jusqu'à 128 Go).
Android 10
Capteurs
GPS de qualité industrielle – GNSS GPS+Glonass+Beidou+AGPS
Baro / Vario basé sur un capteur suisse très sensible (Te connectivity)
Accéléromètre
Capteur Géomagnétique
Capteur de gravité
Boussole
Capteur Gyro
Capteur de lumière
Interactivité
5 boutons physiques pour configurer différentes actions
Zoom avant Zoom arrière
Page suivante, page précédente
Waypoint suivant / précédent
Luminosité + et -
Menu –
Appel d'urgence
Affichage
7 pouces - Couleur. (Comprend un film protecteur)
IPS HD LCD
TouchPad capacitif
1000 cd/m2
1920X1200
Connectivité
WI-FI (802.11 a/b/g/n/ac).
Bluetooth 4.2 (LE)
2G, 3G, 4G
USB Type C – USB Pogopin
3.5 Jack Stereo.
Appareil photo numérique
Arrière: 13 Megapixels
Avant: 5 Megapixels
Données techniques
Batterie Li-ion intégrée de 10 000 mAh.
Dimensions: 205mm*140mm*21mm
Poids: 650gr – 665 gr (7.3+).
Couleur Noir / Orange
Applications
XCTrack Pro (licence perpétuelle): optimisé, personnalisé et préconfiguré
Gestionnaire AIR³

lancement automatique (au démarrage) / manuel de XCTrack
automatic (on boot) /manual download of Openair file
définir le profil XCTrack Pro (Kiss-Easy-Expert-Paramoteur)
définir le thème XCTrack Pro.


General applications linked to Android: Gallery, Internet Browser, Calendar, Calculator, Music player, Email, Google Play, Clock, Whatsapp, Messenger, Youtube, Instagram, Facebook, …
Compatible with other flight Android Apps: XCsoar, LK8000, XC Guide, Safesky, Cruiser…
---
Qu'y a-t-il dans la boite?
AIR³ (comprend un film protecteur)
Adaptateur secteur USB + câble (USB-type C & Pogopin)
Neoprene cover
Guide d'utilisation rapide