New generation flight instrument
All in one rugged 7" Android alti-vario, GPS phablet.... and much more
Olivier D. (Switzerland)
"I was able to try the AIR³ and I am really very satisfied. The battery holds up well and the vario GPS connection is very fast. Visibility is good too. I prefer using it with the white mode. For the support/base, I have mounted it well but it turns out that my cockpit is sufficiently inclined to ensure good readability. So I took it apart. The idea is good ... So I'm going to use it for another harness"
Eric B. (France)
″Already a month of possession of AIR3, very nice instrument. We see that you spent some time…″
Quick video to discover AIR³
XCTrack Pro
Preconfigured and customised version
Advanced and user friendly flight app
XCTrack is a complete flight software for paragliding pilots. - both for free flight and competitions. The PRO version contains features that are not available with the "standard" version. The XCTrack development team will increase these additional features in future upgrades. AIR³ comes with a PRO version of XCTrack with a perpetual license. This means that the pilots using AIR³ will benefit from these new features when they become available.
AIR³ Manager
XCTrack' s best friend to ease the use of AIR³
AIR³ Manager
Small app that interacts with XCTrack
With AIR³ Manager, you don't need anymore to understand all the powerful features of XCTrack to change the profile, the theme or some basic functionalities.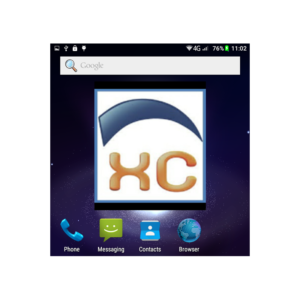 XCTrack Widget
Launch XCTrack on boot or manually
AIR³ Manager gives you the opportunity to auto-launch XCTrack on boot. You quit XCTrack? Click on the large widget to launch it.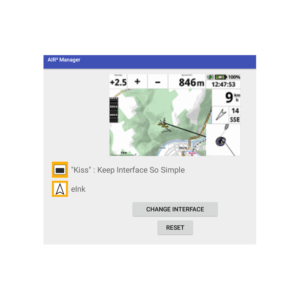 Profile and Theme
Select your prefered profile and theme.
Choose one of the preinstalled profiles: Kiss (Keep It So Simple), Easy (for XC and Leisure) or Expert for Advanced Pilots and Competitors. Select your favorite theme. AIR³ Manager takes care of the rest.
AIR³ Base = increased readability
Good readability is essential for a flight instrument.
There are different ways to improve readability.
Some devices are brighter, others use eInk/black and white screens.
Based on our research, analysing the Pro and Cons of each solution,  we decided to follow a third way. The black and white (eInk) display prevents pilots from having a lot of useful information.  These screens are quite fragile.
Even with a brighter screen, direct sunlight makes everything unreadable when placed horizontaly on the cockpit.
Base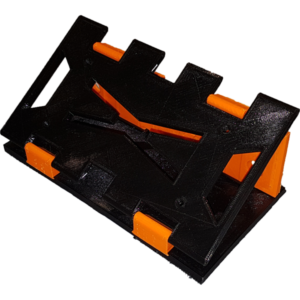 If you tilt the screen so that it is right in front of your eyes, you get maximum readability, even in direct sunlight.
The AIR³ base has been designed to allow the pilot to easily install it, even in flight.
Still not convinced? Ask your local dealer for a test unit or take advantage of our "satisfied or refunded" commitment if there isn't local dealers yet.